Tairyoku
Shotokan
Karate
Club
Who are we?

We were founded and established on 18th September 1999 by Sensei Lester Wellington and started out at our Bierton Dojo. Since then he has trained many students to attain their Black Belt and has had great success with a number of students being part of the JKA England Squad. Our Club Instructors are qualified and EKF approved, First Aid trained and have DBS enhanced certification. With six regular dojo's throughout Buckinghamshire and spilling into Oxfordshire in which you can train. We accept students of all ages from 7 years +, whether you are male or female; a complete novice or experienced karateka; Martial artist from another Association or style, you are welcome.
New Members Info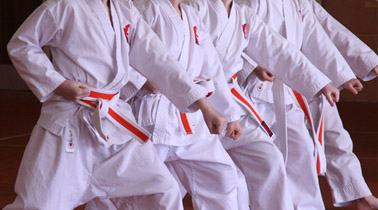 Ever tried karate?
Read on! Your first lesson is FREE!
New students are welcome to join the club at anytime - we have a 'rolling' agenda.
We also ask that before you attend your first class, please take the time to fill in our registration form online. This will save time when you arrive at the dojo.
Here is a link to the online registration form:

Registration Form - Online
Find out all about joining.

Beginners Info
Welcome to
T S K C

---